EXHIBITIONS
UNIVERSITY OF DISASTER
Radenko Milak with international guests
Curated by Christopher Yggdre, Sinziana Ravini, Fredrik Svensk, Anna van der Vliet
13 May – 26 November 2017
Pavilion of Bosnia and Herzegovina, at 57th International Art Exhibition Venice Biennale
University of Disaster
is a project that was presented at the 57th Venice Biennale for the Bosnia and Herzegovina National Pavilion and curated by Christopher Yggdre, Sinziana Ravini, Fredrik Svensk, Anna van der Vliet, in collaboration with Hans-Ulrich Obrist.
The final work presented at the
University of Disaster
was a
quadriptych
by Radenko Milak. The panels, of imposing dimensions, are composed of black and white watercolors that constitute a single image, made up of different images.
Gaston Bachelard demonstrated in his different essays that it was possible to understand poetic creation, from its origins to today, through the four fundamental elements. He constituted, beyond the usual divisions of epochs and territories, poetic communities and symbolic families that are connected to one or another of these four elements.
Indeed, each panel of Milak's quadriptych is dedicated to one of the four fundamental elements – Air, Fire, Earth and Water – through the prism of a contemporary catastrophe, a recent disaster. With his work, the artist wants to remind the importance of the four elements in the common symbolic perception of contemporary disaster, beyond even the evidence of the present ecological catastrophe, that the water is contaminated, the air polluted, the earth poisoned, and that the fire consumes planet's last resources without being able to exert its regenerative power; also beyond the fact that people could connect the contemporary micro-narratives of disaster to the significant narratives of disaster in the founding texts to the four elements, such as for example, the Flood for Water, Sodom and Gomorrah for Fire, the Plagues of Egypt for the Earth or Air.
Radenko Milak's first panel, dedicated to the Earth, plays with cinematographic narrative codes and presents, what is for the artist his first memory of a disaster, the dire consequences of the largest oil spill in history, in 1991, tied to the Golf War. The second, dedicated to Fire, is the landscape of the city of Hiroshima ravaged by the nuclear fire of the first atomic bomb, interwoven with mathematical equations, cartography, but also desire, with the embracing of two bodies. The third, dedicated to Water, mixes the classic codes of Marine painting with contemporary representations of those drowned in the Mediterranean, these migrants who are today the shame and the dishonor of the European continent. The fourth, dedicated to Air, appears at first glance as pure abstraction, yet it is the scientific microscopic view of atmospheric pollution that is the plague of humanity's overcrowded megacities.
(quot. Christopher Yggdre)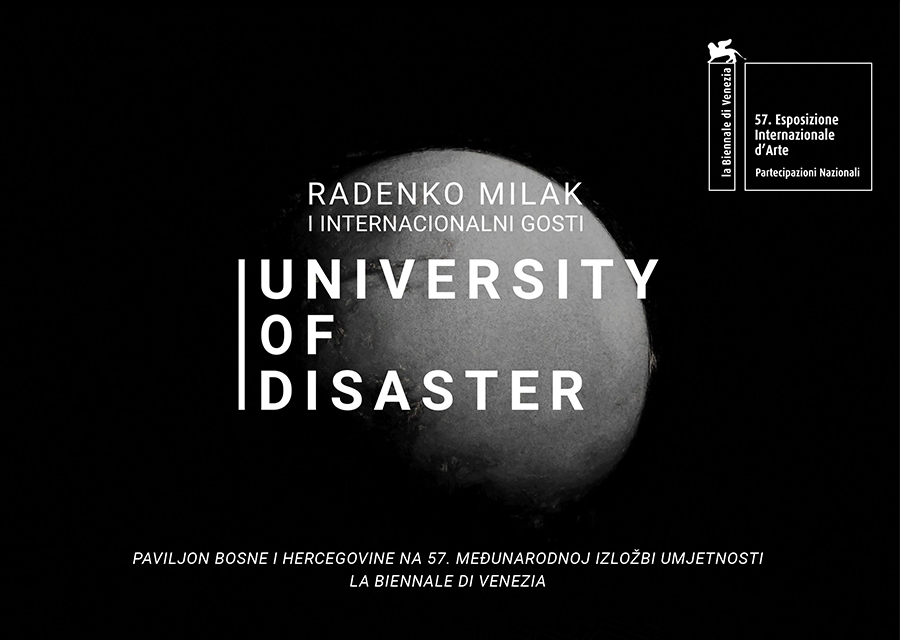 > Read the Catalogue


> University of Disaster